Tours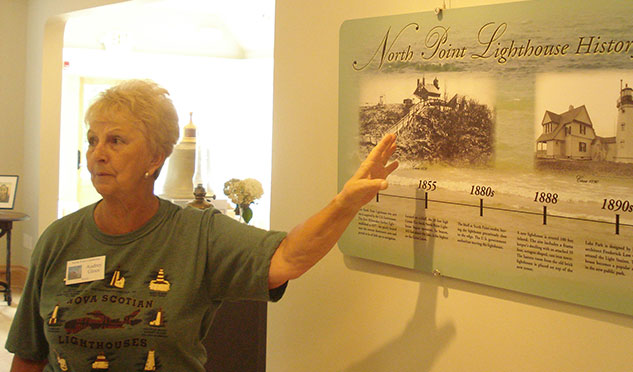 2022 General Hours and Admission
Pay admission at door, no advance reservations needed,
tours run throughout Open Hours.
Open Saturdays and Sundays 1-4 PM, throughout the year.
$8, Adults
$5, Adults 65+ with ID
$5, Students with ID
$5, Children ages 5-11
Free, Veterans and active military
Free, Children ages 4 and under
Group Tours
Whether you are a family or small business group, senior citizen group or a tour operator, we are happy to tailor your visit to the lighthouse. You can select a guided or self-guided tour, add a meeting or luncheon and even engage a lighthouse speaker about a variety of maritime and history related topics, include your own presentation, or organize a picnic lunch on our grounds.
$10 per person or $100 minimum – whichever is greater
Make a reservation by calling 414-332-6754 or [email protected]
Education or Scout Groups:
Throughout the year we work with homeschooled and traditional school groups, Girl and Boy Scout troops, and the Urban Ecology Center. As with our Group Tours, we will tailor your visit based on your needs. Our docents can make suggestions or answer questions about your particular purpose for the visit and make special arrangements so that you can accomplish what is required for your curriculum or badge. Admission is $8 per person.
For Tour Operators:
Please know we are also a part of the Milwaukee Museum Mile, a unique consortium of small museums along Milwaukee's Historic East Side offering an incredible collection of art, architecture and history. For more information on the MMM, visit milwaukeemuseummile.org
Lunch & Tour (only available for larger groups)
1½ hours Monday–Thursday
$30 per person or $850 – whichever is greater
Make a reservation by calling 414-332-6754 or [email protected]
Please Note
Museum is handicap accessible
Down payment required to hold date for Group Tours & Lunch & Learns. Payments are non-refundable
Non-Profit 501c3 Discount: 15% (no discount on Lunch & Learn)
Contact: [email protected] or call 414-332-6754