Exhibits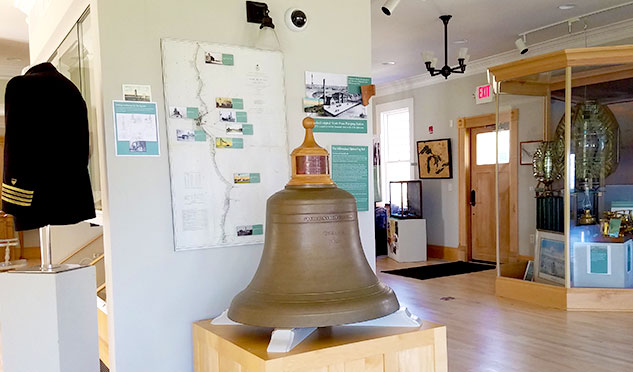 The original Keepers Quarters now serves as the museum gallery. We have several exhibits and artifacts that depict the life of a keeper and maritime history on the Great Lakes.
Other exhibits and artifacts to see at the North Point Lighthouse museum:
A pictorial timeline that chronicles the history of the lighthouses that were located at North Point from 1855 to present.
The fourth-order Fresnel lens from the North Point Lighthouse that guided ships into the bay of Milwaukee from 1888-1994.
The sixth-order Fresnel lens that lit the 1866 North Cut Beacon at the entrance to Milwaukee Harbor.
An exhibit about Augustin-Jean Fresnel, known for inventing the reflective/refractive Fresnel lens and for pioneering the use of "stepped" lenses to extend the visibility of lighthouses, saving unknown numbers of lives at sea.
An exhibit that tells the stories of some of the keepers that "kept the light" at Milwaukee's lighthouses: Eli Bates, Milwaukee's first keeper in 1838, Daniel Kellogg Green, keeper at the original lighthouse at North Point and his daughter, Georgia Stebbins, the first keeper at the 1888 lighthouse and North Point's longest-serving keeper, Martin Knudson and Reynold Johnson, keepers who both served and retired from service at the North Point Station.
A Victorian side table, scrapbook and marriage certificate belonging to Georgia Stebbins that have been donated to the museum by her descendants.
A replica of a uniform and hat that would have been worn by the men of United States Lighthouse Service.
The brass fog bell that was located at the Pierhead Light at the entrance of the Milwaukee Harbor from 1892 -1962.
The telegraph and bell of the wreck of the car ferry Milwaukee, which sank in 1929 taking all 51 lives.
A model of the Lucia Simpson, a three-masted schooner that sailed on the Great Lakes from 1875 -1930.
A traveling library from 1893 with the original books that were carried from lighthouse to lighthouse by the USLHS tenders who supplied the light stations around Lake Michigan.
The original brass drip pan, funnels and vessels used by keepers to measure mineral oil used in the lamps that lit the Fresnel lens.
The ships wheel, portlight and compass from the wreck of the three-masted schooner Grace A. Channon, which sank in 1877.
A Lyle gun used in the rescue of mariners from ships that ran aground and a panel describing how the rescue was performed.
An exhibit telling the story about the sinking of the schooner Tanner in 1875 and the heroic rescue of her crew.
An exhibit about the history of the Coast Guard and the brave men and women who serve.