Visit: Frequently Asked Questions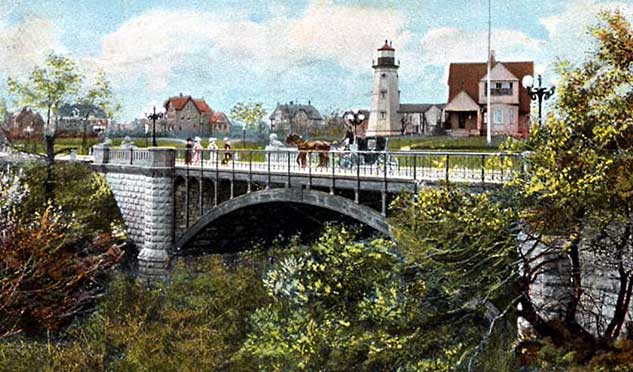 How do I get there?
Latitude/Longitude: 43°03.9'N 87°32.4'W for GPS users
From the West and South
From Interstate 43 in Milwaukee, drive east on Interstate 794. Take the Lakefront exit and go north on Lincoln Memorial Drive for 2.2 miles. Turn left opposite the North Point Snack Bar/McKinley Park Beach and drive up the hill on E. Water Tower Road. Turn right along the bluff on Terrace Avenue and make a quick right onto Wahl Avenue. The lighthouse will be on your right after about half a mile, just before the southern end of the golf course in Lake Park. You can find us using Google Maps as well.
From the North
From Interstate 43 and Milwaukee, take the Locust Street exit and go east as far as you can (you will be facing Lake Park). Turn right on to Lake Drive and go south two blocks where Wahl Avenue begins on an angle to your left. Turn onto and follow Wahl Avenue for about one block. The lighthouse will be on your left. You can find us using Google Maps as well.
What about parking?
Parking is available on Wahl Avenue and surrounding streets. There is no general visitor parking on lighthouse grounds but the small lot on site may be used only for handicapped access. For larger events, such as weddings, please park in the County parking lot at Lake Park Bistro, one block North of the Lighthouse, off Newberry Blvd. From the parking lot, visitors can access the Lighthouse by following the pathway from the southeast corner of the lot.
How can I become a member?
Become a member of North Point Lighthouse and experience the journey that connects you to this iconic historic landmark. North Point Lighthouse membership provides you with exclusive Member-only benefits, while also offering you the opportunity to financially support one of Milwaukee's antique treasures. North Point Lighthouse members are not just donors, but champion supporters of our community.
How can I donate?
Donations to the Lighthouse are tax-deductible.
Can I volunteer?
YES. Volunteers help the organization in different capacities throughout the year. Feel free to call or visit us to learn about the variety of fun and interesting opportunities offered. No prior experience or knowledge of lighthouses is necessary. We are simply looking for people who are excited to learn, to teach, and to help "keep the lights burning" at one of Milwaukee's greatest cultural treasures.
Volunteers must be 18 years of age or older. Youth ages 13-17 must be accompanied by a parent for all volunteer sessions.
For additional information for volunteer opportunities please contact us by email [email protected] or by phone 414.332.6754.
Can I rent the lighthouse?
When you hold your event at the lighthouse, you are not only celebrating your special occasion at our historic destination, you also become a part of its history.
Corporate events, nonprofit retreats and fundraisers, and even children's parties are all entertained with the utmost care given to its suitability and sustainability, with great respect for our mission and our neighborhood.