Hours and Admission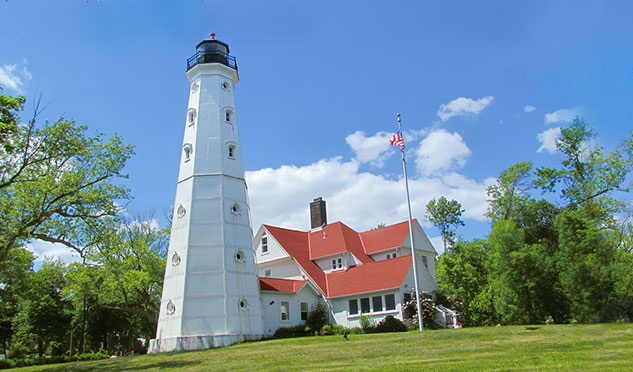 2019 North Point Lighthouse Open Hours & Tour Fees
Open to the public & tours – no reservation needed
Saturday & Sunday year-round 1-4pm
Open 10am-2pm on Thursdays & Fridays from June 20 through August 30, 2019
No need to make reservations in advance
The fees for public tours are:
$8 Adults
$5 Adults 65+
$5 Children & Students (with ID)
Free Children under 4
Free to active and former military
Discover how the lighthouse served the Great Lakes maritime industry. See artifacts and exhibits about the ships that sailed Lake Michigan. Learn about the keepers who maintained the lighthouse. Climb the 74-foot tall tower for a spectacular 360° view of Lake Park, Lake Michigan and downtown Milwaukee.
We're open more days this summer!
North Point Lighthouse & Museum is open more days in the summer!
Thursdays & Fridays 10 am-2 pm through August 30th
Saturdays & Sundays 1-4 pm year-round
Why should you visit?
Come see our beautiful grounds tended to by the Milwaukee County Master Gardeners & volunteers
Enjoy a docent-led tour of our wonderful museum to learn about Milwaukee's maritime history
Climb to the top of our lighthouse tower – kids will receive a personalized certificate
Visit our gift shop – we have children's books, lighthouse books, t-shirts and collectibles
Fees for public tours:
North Point Lighthouse members free
Admission rates for non-members:
$8 Adults
$5 Adults 65+
$5 Children 5-11
Free: North Point Lighthouse members, Children under 4, Veterans & Active Military
No reservations needed. Tours continuous during public hours.
Climbing the Tower
Must be at least 5 years old and at least 38 inches tall to climb the tower
The lighthouse museum is accessible to visitors who use wheelchairs and walkers. The wheelchair ramp is at the north entrance of the museum. A handicap parking space is available for drop-off and pick-up in the north parking area.
Education or Scout Groups
Throughout the year we work with homeschooled and traditional school groups, Girl and Boy Scout troops, and the Urban Ecology Center. As with our Group Tours, we will tailor your visit based on your needs. Our docents can make suggestions or answer questions about your particular purpose for the visit and make special arrangements so that you can accomplish what is required for your curriculum or badge. Admission is $8 per person.
Full Moon Lighthouse Tours – no reservation needed
7:30-10pm on the following evenings:
Friday, April 19, 2019
Saturday, May 18, 2019
Monday, June 17, 2019
Tuesday, July 16, 2019
Thursday, August 15, 2019
Friday, September 13, 2019
Sunday, October 13, 2019
The fees are:
$8 Adults
$5 Adults 65+
$5 Children & Students (with ID)
Free Children under 4
Free active and former military
Lunch & Tour (only available for larger groups
1½ hours Monday–Thursday
Lighthouse Museum lunch & tour: $25 per person or $750 – whichever is greater.
Make a reservation by calling 414-332-6754 or keeper@northpointlighthouse.org
Please Note
Museum is handicap accessible
Down payment required to hold date for Group Tours & Lunch & Learns. Payments are non-refundable
Non-Profit 501c3 Discount: 15% (no discount on Lunch & Learn)
Contact: keeper@northpointlighthouse.org or call 414-332-6754