Milwaukee's Melting Pot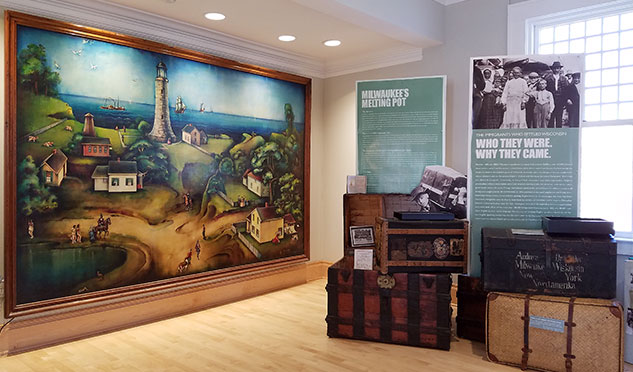 A new exhibit about the immigrants who settled Wisconsin.
Who they were. Why they came.
Between 1836 and 1850, Wisconsin's population increased from a mere 11,000 in 1836 to over 305,000 by 1850. Most arrived by ship and the North Point Lighthouse was the first thing they saw when they arrived in Milwaukee.
Discover the history of the immigrants who settled Milwaukee. Read about who they were and why they came. See some of the luggage that held the worldly possessions of an immigrant from Austria. Share stories about your ancestors about where they came from and when they came to America.
The North Point Lighthouse Museum's Manifest of Ancestors.
Part of the exhibit includes a ledger where visitors can record their ancestor's names, country of origin and the year they arrived in America. Below is a list of names that have appeared on the ledgers.
Luigi And Gesvalda Sapienza, Italy 1912
Frances and Peter Markowski, Poland 910
Barta and Dorthea Cisler, Bohemia 1869
Jakob Zawertany, Ukraine 1913
Adolph Sandsmark, Norway 1918
Nels Spersrud, Norway 1870
Robert Inkster, Burra Isle, Sheltand, Scotland 1786
Bridget and Steven Topah, Budapest, Hungary 1912
Jack Shannon, Ireland 1803
Elmer Haselow, Germany 1900
Anna Gottfridson Visingo, Sweden 1888
Svate Andreson Gron, Aslata, Sweden 1889
Carl Frederik Resburg Amimskog, Sweden 1894
Hulda Hallquist, Smoland Sweden 1891
Henrik Osmundson, Kristiansand, Norway 1886
Andreas Hendikson and Inger Dyphom, Hjartal, Norway 1900
Kjetil Olson, Hjartal, Norway 1905
Robert La Rock and daughter Stella, Montreal, Canada 1860
Coleman, Ireland 1890
Starr, Lithuainia 1900
Janke, Prussia 1890
Wenzeslaus Klink, Germany 1850
Ninian Masson, Scotland 1845
Jensina Grass, Denmark 1898
Bryon Peck, Belgium 1843
Johnathan Lee, England 1630
Elizabeth Reiss, Hungary 1850
Kremm and Makieowitz, Germany, Wales, Austria 1844, 1877
John Brynada, Bohemia 1880
Massimo And Caroline Finlando (changed to Finn), Italy 1913 and 1915
Carl and Anna Deisinger, Bohemia 1855
Louis Chadim (changed to Chatham), Bohemia 1870
Giovanni and Anna (no last name), Italy 1910
Joseph, Sitamna, and Paul DeQuardo, Italy 1926
Hilma M.Peterson Hogsby, Sweden via Liverpool 1880
Augusta Groth, Germany 1854
Josef Voltuer, Bohemia 1902
Shuiwang Liu, China 1881
Koji Yoda, Japan 1959
Mary Frinks, Germany
Killian Weisecjki, Germany
Sitler, Germany 1654
Heinrich Meir, Germany 1865
Fredrick, Maria, August, Whilhem, Otto, Carl Kohn (changed to Kuehn) Stettin Germany (Prussia) 1855
August Minzlaff, Germany 1889
Johann Marten Kuper Jr. (changed to Cooper), Germany 1737
Selena Daubner Caistor, Lincolnshire, England 1869
Edward August Gross, Berlin, Germany 1891
August Wilhelm Kamrath Stoddard, Germany 1868
Rocco Turdo, Sicily 1910
Benjamin Von Westerreldt Napier, Edinburg, Scotland 1800
Karol F. Hinca, Czechoslovakia 1900
Dale A. Nowakowski, Poland 1946
Magdalena Durst, Luxemburg 1882
Augustus Obermann, Bavaria 1911
John Neibler, Bavaria 1850
Cornilius Enright, Ireland 1849
Giuseppe Perruquet, Italy 1907
Johann (Laursen) Damgaard Viborg, Denmark 1900
Iver Claussen, Austria 1896
Gustav Suessen, Germany 1937
William Comstock Exter, England 1635 (shipwrecked on Pemaquid Point, Maine on the "Angel Gabriel)