Photo/Video Gallery
FEATURED Photo Gallery:
National Lighthouse Day 2017
---
PHOTO GALLERIES
Lanterns at the Light 2016 Annual Fundraiser
Discovery World: Love Your Great Lakes 2016
2015 Holiday Decorations
North Point Lighthouse Gallery
Vintage Lighthouse Gallery
Weddings Gallery
---
This photograph of the North Point Lighthouse was captured on May 29, 2014, as an inbound airplane made a graceful left turn.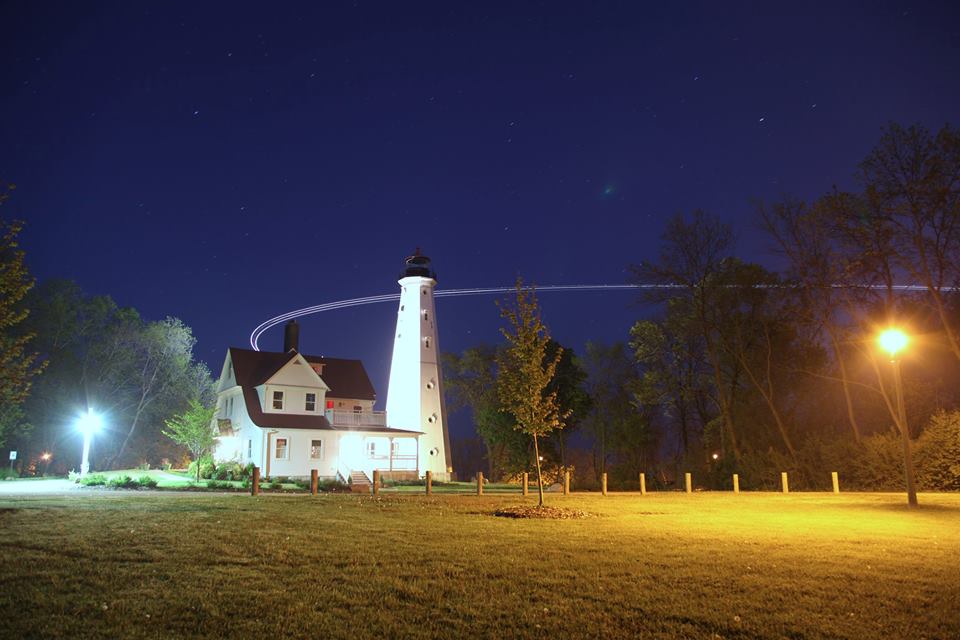 Photography by Alex Walzak of Walzak Media
---
VIDEOS
Art In The City Soirée

Milwaukee Museum Mile (MMM) celebrates five years as a museum consortium (NPLH is an MMM Museum Partner) with Art In The City: Plein Air MKE 2016 located in the heart of Milwaukee's cultural, architectural and natural landscape. Artists painted along MMM, from Juneau Park on the south to Lake Park on the north. The event culminated with a reception, artwork judging, artist awards and a first-look art sale at Saint John's On The Lake on Thursday, May 12.
Video created by Walzak Media.
---
Climbing the North Point Lighthouse Tower
---
TMJ4: A Milwaukee classic – North Point Lighthouse

TMJ4's Sunday news featured the North Point Lighthouse. Watch as our curator, Mark Kuehn, gives a tour on how the Lighthouse changed and grew with its surrounding landscape.
Read the full article on the TMJ4 website.
---
The Lighthouse Keeper
---
CBS Sunday Morning Spotlight: The North Point Lighthouse
---
Enjoy this 360º view of the North Point Lighthouse Museum!
---
North Point Lighthouse is featured on MPTV's Around the Corner
with John McGivern—The John Gurda Hour.
Find our feature at 11:55 minutes!