2017 Annual Appeal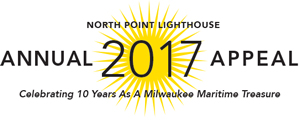 North Point Lighthouse is independently supported by friends like you!
After being decommissioned in 1994, the North Point Lighthouse was boarded-up and deteriorating. It took the generous support of people like you, along with a dedicated team of volunteers, to restore this fabulous, historic landmark and open it in November 2007 for all to share. As we now mark this 10-year anniversary and the 130th Anniversary of Milwaukee's Lighthouse in 2018, your support remains critical.
Read about the highlights from 2017 and opportunities for 2018. One achievement of which we are particularly proud is that the North Point Lighthouse Friends received a 2017 MMSD Green Luminary Award for our concerted effort to significantly reduce pollution flowing into Lake Michigan. North Point Lighthouse Friends remain committed to preserving the Lighthouse history and managing its storm water impacts to help create a better future for our community.
The North Point Lighthouse is asking for your help. We rely solely on the generosity of private donors to operate, maintain and improve our facilities, museum, and programs. We receive no money from the city, county, state, or federal governments. North Point Lighthouse Friends is a 501(c)3 organization so your donation is tax deductible.
Donations of $100 or more will include a family membership for 2018—we can't think of a better gift. You may use the enclosed card or donate at northpointlighthouse.org.
Please act now to keep your Lighthouse strong and proud.
In addition, on to a donation, we encourage you to visit, attend our lectures and events, rent our facility, or arrange for a private tour. Help spread the word about us as well! Many are still not aware of this jewel in Lake Park.
With appreciation and best wishes for 2018,
John Scripp
President & Director

David Remstad
Vice President & Director